Gilles Seurat's take on this week's market
This week was quiet in terms of data publication, newsflow was more concentrated on politics and central banks.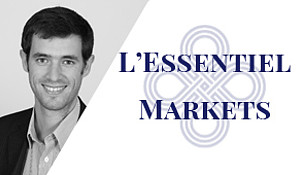 First of all, politics, with Mr. Trump who, once again, had a terrible week: on Monday, two additional Republican senators announced they were not supporting healthcare reform bill. The vote on the "Better Care Reconciliation Act", better known as "Trumpcare" vote, was cancelled rapidly thereafter. With literally no law voted in Congress since he arrived out of 42 bills, the beginning of Trump's term is clearly a failure. The end of week was not better, with FBI announcing Trump's real estate transactions with Russians would be investigated.
This political climate negatively affected the dollar and US goverment bond yields, which hurts us this week. We retain our positioning because we think the political noise will not last, and fundamentals should return to the forefront. We continue to think US yields are too low and markets should anticipate more Fed hikes.
On Thursday, Mario Draghi did his best to look dovish. Fixed income markets reacted well, but surprisingly the Euro continued to rally after the speech. This divergence adds conviction to our thinking that the Euro must go down again, and we added to that trade by taking advantage of good market opportunities.
The earnings season is under way, we will have 40% of Stoxx 600 publishing this week. We think earnings should be on the strong side given how positive macro data was. We increased slightly our exposure to this theme.
More about:
La Française Allocation Share Class R
La Française Allocation Share Class I
La Française Allocation Share Class S
The information and material provided do not, by any means, represent advice, offers, solicitations or recommendations for investing in specific investments. All statements reflect the opinions of their authors at their publication date and do not constitute a contractual commitment on behalf of the management company. These assessments are subject to change without notice, within the prospectus' limitations, which is the only legally binding document. La Française Group declines liability in any form for any direct or indirect damage resulting from the use of this publication or the information that it contains. This publication may not be reproduced in full or in part, disseminated or distributed to any third party without the prior written consent of La Française Group.

La Française Allocation is a French UCITS in regards to the 2009/65/CE Directive. The Fund received AMF authorization on July 15th 2003 and was launched on July 31st 2003. The strategy changed as of July 19th 2012. Management company : La Française Asset Management – Paris – approved by the "Autorité des Marchés Financiers" under N GP97076 on July 1st, 1997.
For more information regarding the French regulatory authority - Autorité des Marchés Financiers (AMF) – please visit www.amf-france.org.www.amf-france.org.