Gaining in a Slowdown ?
Goodbye, peak growth in the U.S. Hello, equity gains? It may not make sense at first blush but slowing economic growth can, and often does, coincide with positive equity returns.
Historically the S&P 500 Has Mostly Risen During Slowing GDP Growth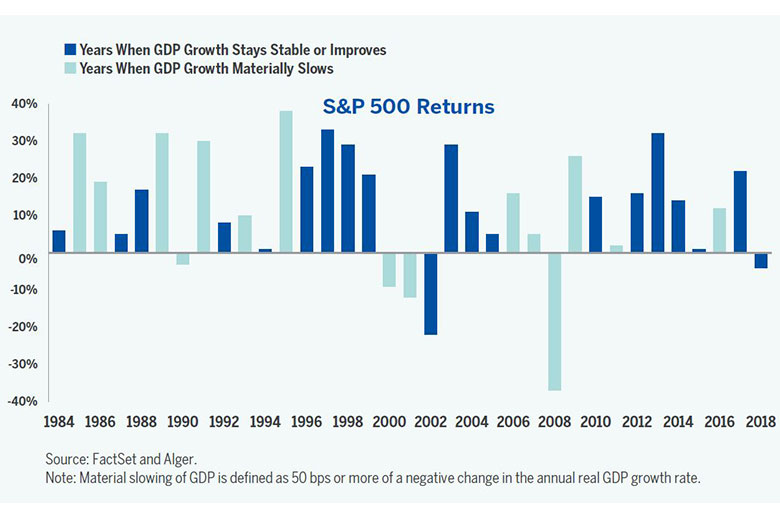 As U.S. fiscal stimulus wanes and trade issues continue to provide a headwind to growth, the momentum of the U.S. economy is expected to slow in 2019. Consensus estimates of GDP growth project a deceleration of about half a percentage point relative to the nearly 3% growth in 2018.

But decelerating economic growth does not necessarily mean weak equity returns. In the past 35 years, there have been 15 years when U.S. GDP growth materially slowed, with the vast majority generating positive U.S. stock returns. Relevant examples include 1995, when the economy slowed after Fed tightening while earnings grew strongly and U.S. stocks posted solid returns, as well as 2016, when economic growth slowed and stocks posted solid, albeit varied, returns.

Returns were negative during slowing economic growth only when accompanied by a recession (1990, 2000/2001 and 2008). If the slowing economy is able to avoid recession, history suggests that U.S. equities can indeed achieve gains.

Looking at the big picture, it is easy to see that equities have mostly gained in the past and may continue to benefit investors over the long term (see Alger on the Money "Stocks for the Long Term?").
Download Alger On The Money