FOMC meeting, nothing new but stay tuned for Jackson Hole
The FOMC will be meet this coming July 28th and 29th.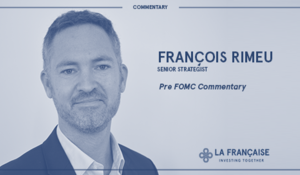 Here is what we expect:
Dovish forward guidance, reaffirming that rates will be held low for a long period of time.

The Fed will confirm the continued expansion of their balance sheet at the current pace and conserve flexibility.

They will maintain their support to credit markets.

They will not increase their accommodative stance: Uncertainty remains high, but the economy has recovered faster than most economic forecasts (Retail sales, employment, etc.).

They will reaffirm their opposition to negative rates.

They will not implement yield-curve control. The topic is still under discussion, but we believe Fed members will prefer to wait for more macro-economic clarity before acting.

They will communicate that their strategic review on inflation is still ongoing but provide no further information. The Jackson Hole conference (August 28) might be a good place to introduce some of the conclusions.
All in all, it should be a non-event for financial markets.
Disclaimer
This commentary is intended for non-professional investors within the meaning of MiFID II. It is provided for informational and educational purposes only and is not intended to serve as a forecast, research product or investment advice and should not be construed as such. It may not constitute investment advice or an offer, invitation or recommendation to invest in particular investments or to adopt any investment strategy. Past performance is not indicative of future performance. The opinions expressed by La Française Group are based on current market conditions and are subject to change without notice. These opinions may differ from those of other investment professionals. Published by La Française AM Finance Services, head office located at 128 boulevard Raspail, 75006 Paris, France, a company regulated by the Autorité de Contrôle Prudentiel as an investment services provider, no. 18673 X, a subsidiary of La Française. La Française Asset Management was approved by the AMF under no. GP97076 on 1 July 1997.