Following the Portugal credit rating upgrade, the move in bond yield has been quick and brutal
This week, FOMC delivered a speech in line with previous statement, which can be viewed as slightly hawkish because weak inflation figure could have made them soften their tone. Few points to keep in mind :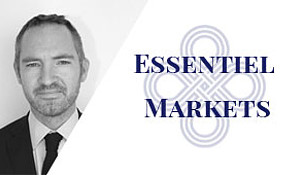 Dots are unchanged for 2017 and 2018, but have been revised slightly for 2019 and long term
Upbeat comments on the economy, including labor market with lower unemployment rate forecast
"Classical" comments regarding Hurricanes: impact is hard to estimate and should be transitory, with a V shape growth impact
Fed balance sheet reduction has started with $10bn a month as planned
The markets had a slight hawkish reaction, however very short lived, and we are now almost back to pre FOMC levels. In short, markets do not believe the Fed so far. While December Fed hike probability rose from 50% to 65%, 2018 and 2019 paths remain very far away from the dots.
Economic data out of Europe remain robust with PMI way above expectations at 56.7. These data are still strong in Germany and France. That being said, we cannot afford to ignore the news that made everyone happy here, Portugal credit rating upgrade from S&P !
The market reaction was brutal, with a 50bps spread contraction versus Bund this week. We are awaiting the same type of move on Mexico now !
The move does not seem to be finished, and our target is now for Portugal to trade as tight as Italy, which is another 30bps left in spread.
Generally speaking, we think Central Banks are close to tightening policies a bit faster:
Growth is widespread (in Eurozone) and strong
Fed is no longer alone in the tightening camp: Canada hiked twice, the British are not far from it and ECB would love to (but very carefully, Euro must not rise to much…)
Commodities are holding up well
The issue remains of course the inflation, but a couple of figures above expectations should give credit to the tightening thesis.
More about:
La Française Allocation Share Class R
La Française Allocation Share Class I
La Française Allocation Share Class S
The information and material provided do not, by any means, represent advice, offers, solicitations or recommendations for investing in specific investments. All statements reflect the opinions of their authors at their publication date and do not constitute a contractual commitment on behalf of the management company. These assessments are subject to change without notice, within the prospectus' limitations, which is the only legally binding document. La Française Group declines liability in any form for any direct or indirect damage resulting from the use of this publication or the information that it contains. This publication may not be reproduced in full or in part, disseminated or distributed to any third party without the prior written consent of La Française Group.

La Française Allocation is a French UCITS in regards to the 2009/65/CE Directive. The Fund received AMF authorization on July 15th 2003 and was launched on July 31st 2003. The strategy changed as of July 19th 2012. Management company : La Française Asset Management – Paris – approved by the "Autorité des Marchés Financiers" under N GP97076 on July 1st, 1997.
For more information regarding the French regulatory authority - Autorité des Marchés Financiers (AMF) – please visit www.amf-france.org.www.amf-france.org.