Fixed income
A paradigm shift is threatening the existence of sector stalwarts...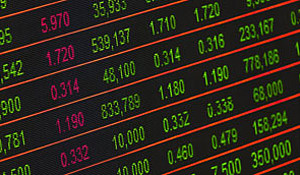 Traditional retailers are currently facing a paradigm shift following the emergence of online specialists such as Amazon, Alibaba and Zalando. In this environment, many retail giants are experiencing significant operational difficulty and bankruptcy protection announcements are coming thick and fast all over the globe. The most striking example is Toys R Us, a toy retailer with global reach that had a particularly high level of debt for many years before succumbing to the impact of the internet and changing consumption patterns. Holders of Toys R Us 2018 bonds have suffered significant losses, of almost 85% since the beginning of September 2017 (source: Bloomberg). There are plenty of similar stories, such as Sears, an iconic store chain of the post-war consumer society, and RadioShack, a chain of US electronic stores, or in France, Vivarte, owner of brands including La Halle. We expect this trend to continue over the coming years, especially for the most indebted companies, as the rising default rate for US high yield issuers - now close to 11.5% - shows.
...as well as providing a source of investment opportunities
Retail now offers the highest yield of any sector (the average US YTM is 8.3%). These high yields may seem attractive, but default rates are also climbing. To eliminate the issuers most exposed to the growth of online retailers, we therefore need to be highly selective, in terms of:
1) Geography: pressure from online is far more significant in the USA than in Europe. On top of that, US firms tend to restructure their debt much more quickly. It therefore makes sense to overweight European issuers, except for UK retailers.
2) Sector: the high yield retail universe can be split into two sub-segments – food and nonfood. Clearly, food retailers are much less affected, while in the non-food sector, there are also sub-segments that are less exposed to online competition (musical instruments, tools, etc.).
3) Positioning: the companies that have been most impacted by online competition are mid-range players.
4) Potential targets: the stress the sector is under will accelerate consolidation, so it will be a good idea to identify which firms are likely acquisitions.
5) Shareholder structure: many issuers are going to need fresh cash to meet their bank covenants and investment requirements. It will therefore be worth favouring assets held by shareholders with the greatest capacity to manage these needs.
As a result, we particularly like names such as Burger King, Casino, Picard, SMCP and Supervalu (US supermarkets), and conversely, we are far more cautious around the likes of House of Fraser (UK department stores), Fresh Markets (supermarkets in direct competition with Amazon/Whole Foods and held by an aggressive fund) and New Look (budget fashion retailer owned by a fund destabilised by the collapse of Steinhoff).