First rate cut since 2008 ; future rate cuts will depend on the trade war
Please find below our thinking about last FOMC: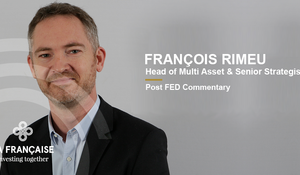 The FOMC announced the first rate cut since 2008 => this quarter point decrease was widely expected.
They also announced the end of the balance sheet unwind, two months before the initial plan => Not 100% expected, slightly dovish
Mr Powell suggested this move was a small adjustment meant to help economy weather uncertainty (coming mainly from the trade war)
Both Rosengren and George voted against Wednesday's decision => not expected, slightly hawkish
Mr Powell didn't look comfortable when questioned about future rate path ; He said it is not "the beginning of a long series of rate cuts" but he didn't say "it is just one".
We don't read this FOMC as particularly hawkish as Mr Powell almost precommit to as least a second rate cut before year end. At the end, the decision will depend on the evolution of the trade war and macro-economic data, which is no news to us.

Disclaimer
This commentary is intended for professional investors within the meaning of MiFID II. It is provided for informational and educational purposes only and is not intended to serve as a forecast, research product or investment advice and should not be construed as such. It may not constitute investment advice or an offer, invitation or recommendation to invest in particular investments or to adopt any investment strategy. Past performance is not indicative of future performance. The opinions expressed by La Française Group are based on current market conditions and are subject to change without notice. These opinions may differ from those of other investment professionals. Published by La Française AM Finance Services, head office located at 128 boulevard Raspail, 75006 Paris, France, a company regulated by the Autorité de Contrôle Prudentiel as an investment services provider, no. 18673 X, a subsidiary of La Française. La Française Asset Management was approved by the AMF under no. GP97076 on 1 July 1997.