Figure that might influence ECB's tapering decision
This week was very quiet, with no Central bank, no major macroeconomic data and little market movements. Developed equity markets were slightly down, emerging market equities up, bond yields lower as well as the dollar. Yet small, these moves are more or less offset by Friday's trading session.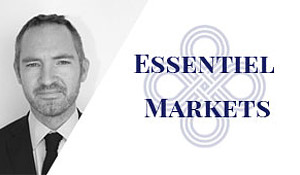 Still, we should note :
Mr. Trump's press conference was a great Trump moment but nothing that can give us some precision about measures that will be taken when he gets into the oval office.
US retail sales, overall in line with consensus
ECB minutes informed us that tapering decision was taken with a large consensus and "some" were in favor of a harder move. This supports our bearish view on Euro fixed income
Chinese FX reserves continue to go down, which is logical with a currency under pressure and a central bank forced to intervene to support its currency. It is more or less the same that happened early last year, and it has been going on for months, but markets are now convinced that everything is under control…
The beginning of the earning season in the US with banks starting off. Earnings are decent, hence supporting the market; for the moment it's as usual.
Next weeks will be dominated by more earnings releases, that we anticipate to be positive and act as a support for equity markets, at least from a short term point of view. We will as well have the ECB on Thursday, which should not announce anything. There is however a possibility that journalists ask Mr. Draghi about inflation data that came out above expectations, especially in Germany.
Kind Regards.
More about:
La Française Allocation Share Class R
La Française Allocation Share Class I
La Française Allocation Share Class S
The information and material provided do not, by any means, represent advice, offers, solicitations or recommendations for investing in specific investments. All statements reflect the opinions of their authors at their publication date and do not constitute a contractual commitment on behalf of the management company. These assessments are subject to change without notice, within the prospectus' limitations, which is the only legally binding document. La Française Group declines liability in any form for any direct or indirect damage resulting from the use of this publication or the information that it contains. This publication may not be reproduced in full or in part, disseminated or distributed to any third party without the prior written consent of La Française Group.

La Française Allocation is a French UCITS in regards to the 2009/65/CE Directive. The Fund received AMF authorization on July 15th 2003 and was launched on July 31st 2003. The strategy changed as of July 19th 2012. Management company : La Française Asset Management – Paris – approved by the "Autorité des Marchés Financiers" under N GP97076 on July 1st, 1997.
For more information regarding the French regulatory authority - Autorité des Marchés Financiers (AMF) – please visit www.amf-france.org.www.amf-france.org.