Fed should confirm its dovish stance and announce the end of its balance sheet run-off
What can we expect at the FOMC meeting on Wednesday?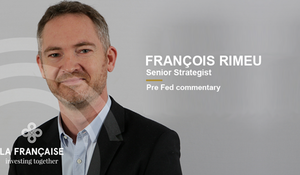 We expect the Fed to announce the end of its balance sheet run-off at year-end. That should keep excess reserves at roughly $1.2 trillion which would be consistent with recent Fed communication. They will likely invest prepayments from mortgages in treasuries. We expect the median dot for 2019 to show only one hike vs two previously. It would require seven committee members to move their dots lower to shift the median dot to zero for 2019, which is in our view unlikely. 2020 median projections should also move lower and show no hike.
The summary of economic projections ("SEP") is likely to be downgraded and the Fed is likely to revise its 2019 growth estimate from2.3% to 2.2%, mainly because of disappointing retail sales in December. The 2020 growth estimate should remain stable. On the inflation front, core CPI fell from 2.2% to 2.1% in February, but wages continue to accelerate, albeit at a slow pace, meaning that the Fed has no obvious reason to adjust their inflation forecasts.
All in all, this meeting should confirm the Fed's dovish stance and could have a minor negative impact on the valuation of the US dollar.
Disclaimer
This commentary is intended for professional investors within the meaning of MiFID II. It is provided for informational and educational purposes only and is not intended to serve as a forecast, research product or investment advice and should not be construed as such. It may not constitute investment advice or an offer, invitation or recommendation to invest in particular investments or to adopt any investment strategy. Past performance is not indicative of future performance. The opinions expressed by La Française Group are based on current market conditions and are subject to change without notice. These opinions may differ from those of other investment professionals. Published by La Française AM Finance Services, head office located at 128 boulevard Raspail, 75006 Paris, France, a company regulated by the Autorité de Contrôle Prudentiel as an investment services provider, no. 18673 X, a subsidiary of La Française. La Française Asset Management was approved by the AMF under no. GP97076 on 1 July 1997.