Eurozone inflation exceeds expectations and accelerates gradually in August
The market sentiment remains volatile this week. Geopolitical tensions escalated sharply at the beginning of the week as North Korea launched a missile over Japan.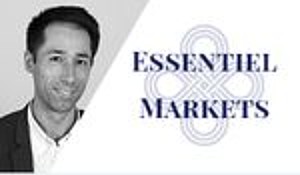 But macro took the central stage quickly. Incoming data remained strong and the global growth recovery is firming up.
Second quarter growth was revised upward to 3.0% from 2.6% with stronger household spending and a bigger gain in business investment. Momentum accelerated clearly into the second half of the year. Consumer spending, biggest part of the economy, grew by 3.3%. However, fallout from Hurricane Harvey could trim third quarter growth
Manufacturing sector accelerated sharply in August as ISM Manufacturing index rises to 58.8 at the top the year
However, US jobs report for August was weak. Payrolls missed expectations (156.000 jobs created vs 180.000 expected) with higher unemployment rate (4.4% vs 4.3% in July). Also, wage growth remained weak. This figure has to be consider with caution as payroll numbers have been often volatile during summer
In China, data continues to be supportive. The manufacturing PMI came in stronger-than-expected at 51.7 in August from 51.4 in July. The growth outlook remains robust for the second part of the year.
In Europe, all lights are green before the ECB meeting next week, apart from the rise of the euro that could become a concern for central bankers as discussed in the minutes.
Inflation is slowly rising, driven primarily by the energy prices. The Eurozone inflation picked up more than expected in August and rose to +1.5%, with a strong support coming from German inflation at +1.8%
Economic confidence rose to the highest level in a decade. Euro economy is booming. Growth accelerated in the second quarter, spreading to more countries. But that has not yet translated into significantly faster inflation and rising wages
Market sentiment remains very positive in Europe but euro strength began to hit European equities and could put economic recovery in danger and impact the inflation.
Next week, all eyes will be on the ECB monetary policy meeting. ECB will update economic forecast:
Projections are likely to see a cut in the September inflation mid-points for 2018 and 2019
Overall, we expect no change in the ECB's communication regarding the exit strategy (QE tapering). The ECB has been quite clear that there will be no change in policy stance before the autumn
Mario Draghi is likely to keep a cautious stance as underlying inflationary pressures (core inflation) still remain too low and the trend is far from anchored
More about:
La Française Allocation Share Class R
La Française Allocation Share Class I
La Française Allocation Share Class S
The information and material provided do not, by any means, represent advice, offers, solicitations or recommendations for investing in specific investments. All statements reflect the opinions of their authors at their publication date and do not constitute a contractual commitment on behalf of the management company. These assessments are subject to change without notice, within the prospectus' limitations, which is the only legally binding document. La Française Group declines liability in any form for any direct or indirect damage resulting from the use of this publication or the information that it contains. This publication may not be reproduced in full or in part, disseminated or distributed to any third party without the prior written consent of La Française Group.

La Française Allocation is a French UCITS in regards to the 2009/65/CE Directive. The Fund received AMF authorization on July 15th 2003 and was launched on July 31st 2003. The strategy changed as of July 19th 2012. Management company : La Française Asset Management – Paris – approved by the "Autorité des Marchés Financiers" under N GP97076 on July 1st, 1997.
For more information regarding the French regulatory authority - Autorité des Marchés Financiers (AMF) – please visit www.amf-france.org.www.amf-france.org.