Eurozone GDP is now expected to reach +2.2% for 2017 (versus +1.7% in the Spring projections)
The US fiscal reform is underway, but is difficult. The US Senate has made an offering which is quite different from the House's, which means implementation could be delayed to 2019.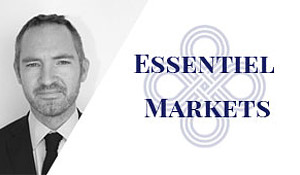 The market impact is so far quite surprising, with the dollar coming back slightly and US bond yields moving higher, which is counterintuitive. Logically, equities are down even though the move had begun before the news broke: all ECB increase has now been erased.
The European Commission revised upwards its Eurozone GDP estimates: +2.2% vs +1.7% for 2017, +2.1% vs +1.8% for 2018. It is logical given that GDP is currently running around +2.5%, and it confirms European economy's good health.
Last week was scarred by disorder in the Middle East and by Saudi Arabia crackdown. Overall, state of play is unstable between Iran, Lebanon, Saudi Arabia and Yemen, which is pushing oil prices higher.
On the macro side, little data last week, but what we got was well oriented.
The markets are moving a bit these days: after a sharp downward move following ECB's announcement, bond yields are moving back up over a few days without any event to report. In the meantime, equities are decreasing and credit is suffering, which has been very rare in recent past. There has been some volatility as well on peripheral spreads which has tightened by 9bps in a day, and moved the other way round the next day.
We increased our short duration trade at the beginning of last week, as well as our long USD vs EUR trade. We are beginning to buy as well some Euro equities after their drop, given that we had zero exposure there.
More about:
La Française Allocation Share Class R
La Française Allocation Share Class I
La Française Allocation Share Class S
The information and material provided do not, by any means, represent advice, offers, solicitations or recommendations for investing in specific investments. All statements reflect the opinions of their authors at their publication date and do not constitute a contractual commitment on behalf of the management company. These assessments are subject to change without notice, within the prospectus' limitations, which is the only legally binding document. La Française Group declines liability in any form for any direct or indirect damage resulting from the use of this publication or the information that it contains. This publication may not be reproduced in full or in part, disseminated or distributed to any third party without the prior written consent of La Française Group.

La Française Allocation is a French UCITS in regards to the 2009/65/CE Directive. The Fund received AMF authorization on July 15th 2003 and was launched on July 31st 2003. The strategy changed as of July 19th 2012. Management company : La Française Asset Management – Paris – approved by the "Autorité des Marchés Financiers" under N GP97076 on July 1st, 1997.
For more information regarding the French regulatory authority - Autorité des Marchés Financiers (AMF) – please visit www.amf-france.org.www.amf-france.org.