ESG Trends in the Real Estate sector
The real estate sector has been proactive on issues of sustainable development for many years and has improved its overall sustainability performance, particularly with regard to carbon emissions and energy management.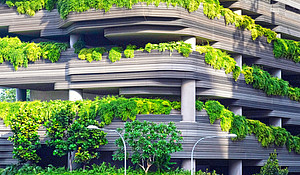 However, it is time to look beyond climate and energy-related issues. The advent of the UN's Sustainable Development Goals (SDGs) and a series of global megatrends will require the real estate sector to think differently about how it approaches sustainability.
Investor pressure, risk reduction and reputation enhancement, together with a stricter regulatory environment and the need to cut costs, will continue to influence CSR practices in the sector. At the same time, new ESG factors are emerging alongside existing themes, which in our view will require more inclusive and flexible rating models that relate to the SDGs. Among these emerging themes, we have identified a number that we think are very important and which are systematically included in our assessment model:

ENVIRONMENTAL FACTORS
- Certification and standards: beyond the environmental assessment systems for buildings developed throughout the world (there are more than 600 variants on BREAM and LEED, including HQE in France), other types of certification are being introduced to meet new requirements. One of these is the WELL certification, which is aimed at advancing health and well-being in buildings. Similarly, the use of community ratings is a new phenomenon that is emerging as an option for public spaces such as squares, parks and streets, as well as buildings.
- Energy demand and climate change: with an average life of 50-100 years, new buildings will emit CO2 over very long periods. Urbanisation is rapidly increasing all over the world, for example, in China the energy consumption of buildings could rise by 40% over the next 15 years. According to the World Green Building Council, to stay below the 2° C target, we will have to step up our efforts considerably if we are to have zero-emission buildings by 2050.
- Water use and waste management: the United Nations World Water Development Report revealed that global demand for drinking water will exceed supply by 40% in 2030. Climate change, population growth and human action will make water shortages increasingly common in both urban and rural environments. As surprising as it may seem, major cities, such as Tokyo or London, face a real risk of suffering water shortages. In the absence of new resources, better water management will be required, with waste water from sources such as rooftop rainwater collection, cooling towers, showers and toilets being collected and treated. Waste is also an important issue, and regulatory pressure is mounting to ban construction and demolition waste from landfills and improve recycling rates.

SOCIAL FACTORS
- Health and well-being of occupants: in order to compete with today's state-of-the-art buildings, catering to both occupants and employers is crucial. Businesses that are dealing with skilled labour shortages may be able to attract talent partly by having inspiring workplaces.
- Urban planning and resilience: as a result of climate change, the number of extreme weather events has risen significantly in the last few years, and continues to grow. As such, resilience should become a priority in building design and construction. Cities will have to make better preparations for such risks and become more resilient in all aspects of the urban landscape - physically, economically and socially.
In a competitive housing market, we are seeing an arms race for new amenities. Well-equipped gyms and access to rooftops are becoming increasingly common, and developments now include cinemas, communal gardens and access to coworking spaces.

GOVERNANCE FACTORS
- Management: real estate will have to be redefined to include services and infrastructure. Users want more flexibility in order to be able to meet the changing needs of the residential and commercial sectors. This will require more intensive asset management and investment.
- Innovation and technology: technology disruption is a factor that has to be taken into account, although it is less common in the real estate world than in other sectors. However, reputation management on social media, for example, is essential. Adaptability and responsiveness to the new world order must be part of a company's ESG armoury.

In sum, we think a traditional approach to ESG factors - centred essentially on energy and climate change issues - will be insufficient for a proper understanding and analysis of the future performance of real estate companies and the expectations for sustainable buildings. Investors and analysts in the real estate sector will have to broaden their horizons when developing ESG metrics in order to fully capture these new challenges.

The full report by La Française Forum Securities (LFFS) and Global Property Research (GPR) is available online.