Equity markets : Political issues are causing geographical and sector polarisation
After a difficult summer for the European equity markets, they remained lacklustre in September, despite a slight rebound in France and Italy. Global economic growth is still on track, as are expected full-year corporate earnings in Europe; however, the European market is in negative territory in 2018, while the US market continues to break new records.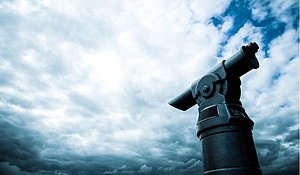 An analysis of stock market performances shows a clear geographical and sector polarisation caused by political announcements and situations. Put another way, the risk premium applied to the European markets, and particularly the eurozone, remains high. Moreover, capital flows are indicative of international investors' wariness on the eurozone, although the 'fundamentals' appear to point to a positive performance in 2018. The three 'political' reasons that we have already underlined are hindering the markets:
Trade war
After months of threats, recriminations and negotiations, NAFTA was replaced by its close cousin, the USMCA "US-Mexico-Canada Agreement". Canada joined Mexico in the agreement on 30 September, which should not have a major impact on the nature of trade between the three countries. This new positive for international trade was eclipsed by a fresh announcement by President Trump that he would carry through on his threat to impose an additional 10% tariff on $200 billion of Chinese imports from September, rising to 25% from 1 January 2019. China reacted by announcing new customs duties from 5% to 10% on $60 billion of US goods from October. The US had previously announced that if China retaliated, it would put tariffs on almost all Chinese imports. This escalation of announcements has once again increased the pressure and concern over the potential consequences of this opposition.

No progress on Brexit at the Salzburg summit
The risk of a 'no deal' is fairly high, and will remain in place until the December summit at best. There is no guarantee that an agreement will be found by the Brexit deadline of midnight on 29 March 2019. The UK's International Trade Secretary, Liam Fox, estimates the probability of "no deal" at 60%. BoE Governor Mark Carney has informed the government of the economic and financial risks associated with Brexit.
Italian budget vote
Despite the pressure exerted by Five Star leader Luigi Di Maio, in saying that he would not vote for the 2019 budget unless all his promises (introduction of a basic income, reduction in the retirement age and higher pensions) were included, Finance Minister Giovanni Tria attempted to keep the deficit target at 1.6% of GDP. In the end, an agreement between the Five Style Movement and the League was reached for a deficit target of 2.4% of GDP between 2019 and 2021, a considerable way off the 0.8% Brussels was looking for from next year. This new source of conflict with Brussels is keeping tensions high in the eurozone.