Due to weak bank lending survey, ECB should keep its policy unchanged and maintain the downside risk bias.
On ECB strategic review, we expect to gather some more information which could be either hawkish or dovish.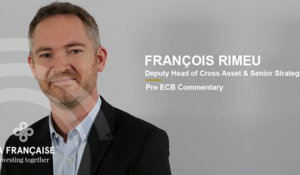 We expect no change in terms of ECB policy on January 23rd:
The latest macro-economic figures point toward stabilization and forward looking sentiment indicators have improved over the last six weeks. We expect the ECB to acknowledge this but we think they would need more evidence before describing risks as "balanced" vs "skewed to the downside" currently, especially with latest lending survey which shows softening loan demand (index is negative for the first time since 2013);
Inflation figures came broadly in line with previous market expectations, meaning that nothing new is to be expected on this front;
Mrs. Lagarde will formally launch the ECB's strategic review; at this stage, the scope is expected to be quite broad. We expect President Lagarde to give details on the organization of the review and to explain how external stakeholders such as academics and civil society may be involved. Please find below the potential topics that could affect financial markets:
- The ECB's objective is currently only related to inflation; they might signal that this objective could be reviewed;
- They could shift to a symmetric inflation target => dovish;
- They could include owner occupied housing in an alternative measure of inflation => hawkish;
- They could include climate change in their review => hawkish:
We expect the ECB to leave the tiering multiplier unchanged, but we do see potential increases in 2020.
We do not expect this meeting to have a material impact on financial markets.

Disclaimer
This commentary is intended for professional investors only within the meaning of MiFID II. It is provided for informational and educational purposes only and is not intended to serve as a forecast, research product or investment advice and should not be construed as such. It may not constitute investment advice or an offer, invitation or recommendation to invest in particular investments or to adopt any investment strategy. Past performance is not indicative of future performance. The opinions expressed by La Française Group are based on current market conditions and are subject to change without notice. These opinions may differ from those of other investment professionals. Published by La Française AM Finance Services, head office located at 128 boulevard Raspail, 75006 Paris, France, a company regulated by the Autorité de Contrôle Prudentiel as an investment services provider, no. 18673 X, a subsidiary of La Française. La Française Asset Management was approved by the AMF under no. GP97076 on 1 July 1997.