Digital Scarcity
This document is directed at investment professionals and qualified investors (as defined by MiFID/FCA regulations).
The next frontier of the digital revolution may be to create digital scarcity such that digital assets can be uniquely owned and not copied. Blockchain technology can accomplish this feat without a centralized middleman, enabling true ownership of digital goods–call it the NFT (non-fungible token) economy.
OpenSea NFT Marketplace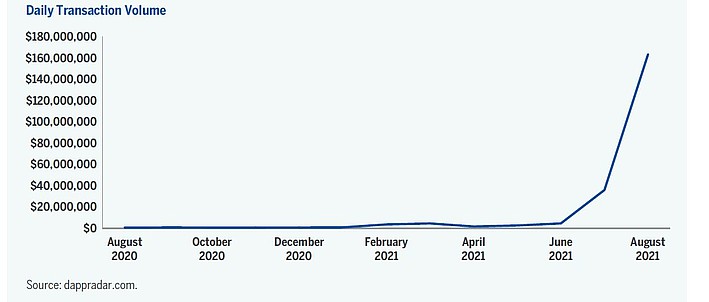 Non-fungible tokens are digital representations of unique assets. In a video game, for example, one can buy gear such as a sword or shield and subsequently own, trade or sell it, even outside of the particular game for use as an investment as a collectible or tool in other games. Given that the item may be unique and controlled by an individual, not a video game publisher, its value may be more durable than traditional, fungible virtual items controlled by a central third party like a video game publisher. OpenSea, the world's largest NFT marketplace, shows that trading activity in NFTs has exploded this year.
NFTs can be much more than items in video games; they can be art. In March, an NFT representing a group of digital images sold at Christie's for $69 million. They can also be the modern-day equivalent of trading cards, such as NBA Top Shot moments, which are NFT videos of basketball plays. Ultimately, you may be able to buy or sell NFTs of your car or house and thereby reduce the extent to which lawyers, fees and documents are necessary.
Because NFTs are opening the opportunity to own digital assets, they are driving growth in the cryptoasset ecosystem. Investors may want to consider public equities that benefit from continued blockchain adoption such as exchanges, digital payment platforms or wallets or semiconductors used in blockchain infrastructure.
Download Alger On The Money