Decrease in unemployment in the US and rise in wage inflation… Hurricane impact ?
Robust data this week with US ISM at a 10 year high and an employment report hard to read, although it shows clearly an increase in wage growth.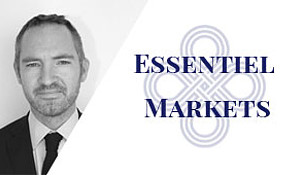 We knew storms would add noise to September data, that proved to be right.
Employment report detail exhibits a large decrease in unemployment rate from 4.4% to 4.2%. The participation rate rises, which is positive as well, but we have a net job loss which makes this report hard to understand. Therefore we do not give much credit to this report, including the average hourly earnings at 2.9% year over year. That being said, taken together with two very high ISM figures (figures have been distorted too, previous high was in 2005 with Katrina), it is pushing the dollar and US bond yields higher.
Another topical issue for the next few weeks is who will be the next Fed chairman. Four candidates stand out: Yellen, Powell (who shares the same philosophy), Warsh (hawk) and Cohn (harder to read). Given their view on various Fed issues, it will probably have consequences for bond yields, the dollar and banks equities.
Last, but not least, fiscal reform could be voted before year end, but it remains very unclear.
In short, US state of affairs is currently hard to decrypt with many unknowns.
In Europe we had ECB minutes, which did not bring much new and few major macro data (apart from disappointing retail sales). The news were dominated by Catalonia indepence push, which had a brief negative impact on Spanish assets (equities and bonds). We are on the sideline, hoping for stress to rise further in order to profit from that (given Catalonia independence probability is very remote), but we might not have the chance.
Earnings season in the US is starting next week. Expectations are for +5.5% year over year EPS growth, which is rather low and should be beaten as usual.
More about:
La Française Allocation Share Class R
La Française Allocation Share Class I
La Française Allocation Share Class S
The information and material provided do not, by any means, represent advice, offers, solicitations or recommendations for investing in specific investments. All statements reflect the opinions of their authors at their publication date and do not constitute a contractual commitment on behalf of the management company. These assessments are subject to change without notice, within the prospectus' limitations, which is the only legally binding document. La Française Group declines liability in any form for any direct or indirect damage resulting from the use of this publication or the information that it contains. This publication may not be reproduced in full or in part, disseminated or distributed to any third party without the prior written consent of La Française Group.

La Française Allocation is a French UCITS in regards to the 2009/65/CE Directive. The Fund received AMF authorization on July 15th 2003 and was launched on July 31st 2003. The strategy changed as of July 19th 2012. Management company : La Française Asset Management – Paris – approved by the "Autorité des Marchés Financiers" under N GP97076 on July 1st, 1997.
For more information regarding the French regulatory authority - Autorité des Marchés Financiers (AMF) – please visit www.amf-france.org.www.amf-france.org.