Dan Chung: Pandemic Boosts Extended Reality Demand
This content is for professional investors only as defined by the MiFID.
Innovation is a relentlessly disruptive force that sometimes grows in surprising places.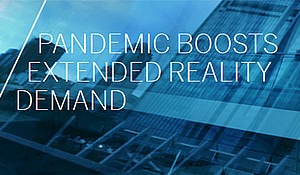 The technology of extended reality vision and displays, which includes augmented reality (AR) and virtual reality (VR), is a trend that has accelerated as a result of the Covid-19 pandemic in a number of uses in the business world, breaking out of its consumer entertainment and gaming base. Companies such as Microsoft, Facebook and Google are developing platforms for the technology across the business enterprise while semiconductors and other computer hardware within the extended reality (XR) market are projected to grow at a compound annual growth rate of 48.3% over the next 10 years, according to research by P&S Intelligence.
Manufacturers Embrace AR
Consider the example of medical ventilators that were in dangerously short supply for treating Covid-19 patients. Governments worldwide launched incentives to ramp up manufacturing of ventilators, but the complex nature of the devices created a shortage of employees with appropriate factory skills to build them, with many companies having only newcomers to the manufacturing of ventilators and expertise only in other non-medical categories, such as building cars.
The Ventilator Challenge UK, a consortium of Ford, GKN, McLaren, Airbus, Meggitt and Siemens UK, has addressed this issue by creating AR instructions for manufacturing workers who may have never seen a ventilator prior to the pandemic.
The organization uses Microsoft's HoloLens headset and PTC's Vuforia Expert Capture, which supports the creation of content. In developing the digital manufacturing expert, the consortium recorded step-by-step assembly instructions, thereby allowing for the "virtual placement" of a ventilator specialist instead of using an in-person instructor, which could be difficult due to social distancing requirements. The organization is also using Microsoft's Azure cloud platform for the AR software.
Well before the Covid pandemic, many industrial companies were exploring and using XR technologies in their service and repair functions. Think of the millions of mechanical components and the electrical equipment that power our electrical grid or a remote power plant. Through AR, field technicians can refer to complex manuals to diagnose and repair equipment while looking at the actual installation and equipment; when assistance is needed, expert technicians can be looped in to consult remotely. The cost savings and efficiency gains are significant.
Shop from Home with AR
The adoption of AR in retailing is also accelerating. Rather than being viewed as a convenient way for shoppers to explore products, AR has become a tool to engage customers as stores have been shut down or are reopening with government-imposed restrictions. Additionally, omnichannel retailers, or retailers with both brick and mortar stores and e-commerce operations, are viewing AR as an attractive option for consumers who may be apprehensive about visiting traditional stores or malls. Indeed, a survey by Vertebrae found that 48% of shoppers do not believe it's safe to shop in stores.
Seek XR, which provides AR for a variety of industries, is a beneficiary of these concerns, having experienced a 600% increase in usage of its platform through customers' websites since March.
Hat retailer Tenth Street Hats and sports sunglass company Goodr are examples of companies embracing XR. They recently turned to Vertebrae to provide AR try-ons of their products. The technology allows users to view themselves wearing different hats and sunglasses, so consumers can avoid entering brick and mortar stores. MAC Cosmetics also launched virtual try-on service by tapping YouCam technology from Perfect Corp., which lets consumers see how they look with various shades of lipstick or eye shadow.
The Next Stage in Digitizing Health Care
The health care industry is also being transformed by AR and VR. Telemedicine has already grown dramatically as doctors and patients embrace alternatives to meeting in person, but AR and VR are being developed to expand upon the services that can be delivered digitally.
XRHealth provides VR-based physical therapy and treatments for hot flashes, memory decline, pain management and mental health, including stress management, and has qualified for Medicare reimbursement. XRHealth launched its first virtual clinic in February with health care practitioners that are licensed in eight states and is working to expand throughout the U.S.
Extended reality is also being embraced for training, including for doctors seeking to learn new surgical skills. At a time when some states or countries are imposing self-quarantine requirements on visitors from areas with high rates of Covid-19, it is difficult for trainers and trainees to travel to learn new medical procedures. With those concerns in mind, Immertec is promoting its VR Medoptic platform that lets doctors virtually enter surgical rooms to complete training. In addition to eliminating travel requirements, the technology reduces the need for personal protective equipment and eliminates the potential for spreading infections.
As in past crises and periods of economic upheaval, innovation and adaptation produce positive growth and opportunities for investors. XR is just one example of a technology that is innovating and evolving, even during this period of extreme economic uncertainty. At Alger, we understand that the best investment opportunities are often born of change forced by crisis, creating new secular drivers for the growth of innovative services, products, technologies and companies adjusting to the new conditions in our economy and society.
disclaimer
The views expressed are the views of Fred Alger Management, LLC (FAM) and its affiliates as of November 2020. These views are subject to change at any time and may not represent the views of all portfolio management teams. These views should not be interpreted as a guarantee of the future performance of the markets, any security or any funds managed by FAM. These views are not meant to provide investment advice and should not be considered a recommendation to purchase or sell securities.
Risk Disclosure: Investing in the stock market involves risks, including the potential loss of principal. Growth stocks may be more volatile than other stocks as their prices tend to be higher in relation to their companies earnings and may be more sensitive to their companies' earnings and may be more sensitive to market, political, and economic developments. Technology and healthcare companies may be significantly affected by competition, innovation, regulation, and product obsolescence, and may be more volatile than the securities of other companies. Past performance is not indicative of future performance. Investors whose reference currency differs from that in which the underlying assets are invested may be subject to exchange rate movements that alter the value of their investments.