Considerable drop in unemployment despite low job creations
This week we had many economic data sets published. US data with disappointing ISM non-manufacturing and NFP far below expectations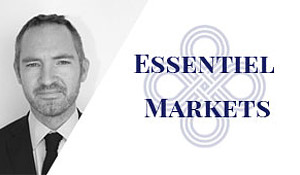 That being said, all was not dark since durable goods orders were in line and while job creations were soft, unemployment rate collapses to 4.5% in the US. All in all, this data was pretty neutral. Similarly in Eurozone, with final PMI close to flash estimates and industrial production (solid in Germany, soft in France). Last, Chinese PMI was on a slower tone, but nothing dramatic.
News was concentrated in the political/central bank areas:
FOMC minutes begin discussions about balance sheet reduction. This topic will be significant for markets for many months: how is the Fed going to shrink its balance sheet? At what pace? How will they communicate? What will be the impact on Fed policy rate path?
The European central bank continues to clarify its message, still dovish, with comments from Praet and Draghi
Meeting between Trump and the Chinese President with nothing new so far
And of course we must mention as well Philippe Poutou
Nothing new on the equity side, but fixed income markets rallied nicely with core bond yields a chunky 10bps lower almost everywhere
François RIMEU, Portfoliop Manager La Française Allocation
Head of Total Return & Cross-Asset
The current management team may change over time.
Key information
Key objective: Achieve, over the investment horizon, a net return higher than that of the 1-month Euribor + 3.5%

Recommended investment horizon: 2 years

Ex-post volatility: 10% maximum (in the case of outstanding market conditions, this volatility level may not be guaranteed
Risk/Return profile :

7 = Highest risk
1 = Lowest risk, which doesn't mean « no risk »
This level cannot be guaranteed and may change over time
Main commercial information:

Share Class: I

ISIN Code: FR0010158220

Allocation of amounts available for distribution: Capitalization

Min. value of initial subscription: € 150 000

Subscription fees: 4% max.

Redemption fees: None

Ongoing charges: 2.18%

Management fees: 1.4% max.

Performance fees*: 0.00%
* Stated above are expenses incurred for the year ending on December 31st 2016 and may vary from year to year. Ongoing charges include management fees and operating costs (audit, custody, distribution…), indirect fees related to investments made in other UCITS or investment vehicles as well as turnover fees.

The performance fees will amount to a maximum of 20% of the excess return of the fund vs. 350 basis points over the 1-month Euribor with a 2% cap.

La Française AM Finance Services receives a commission for the distribution of this product in compliance with the distribution agreement signed between La Française AM Finance Services and La Française Asset Management.
Risk factors - For more information on these risks, please refer to the Fund's prospectus
The Fund offers no guarantee nor protection of the invested capital; investors are exposed to a risk of capital loss.
The portfolio may not be invested at all times in the best performing asset classes and volatility evolution may be unfavorable to the implemented strategies. The Fund's net asset value per share may fluctuate depending on market conditions.
Equity markets, interest rates, corporate debt and forex may vary unfavorably to the portfolio's exposure.
This effect may be increased for either less transparent or more volatile assets such as High Yield debt with a lower rating or emerging market securities
Over-exposure may amplify market movement, both upwards and downwards; arbitrage operations may suffer from unfavorable trends; the counterparty may default in the case of financial derivatives traded on OTC markets; potential conflicts of interest may arise in the case of temporary securities purchase/sale transactions.
The information and material provided do not, by any means, represent advice, offers, solicitations or recommendations for investing in specific investments. All statements reflect the opinions of their authors at their publication date and do not constitute a contractual commitment on behalf of the management company. These assessments are subject to change without notice, within the prospectus' limitations, which is the only legally binding document. La Française Group declines liability in any form for any direct or indirect damage resulting from the use of this publication or the information that it contains. This publication may not be reproduced in full or in part, disseminated or distributed to any third party without the prior written consent of La Française Group.
Want to know more about La Française Allocation, please click here
Get in touch with your financial advisor to analyze a possible fit with your current financial situation. Before subscribing, take the time to read the Key Investor Information Document (KIID) and Fund's prospectus, notably the section regarding associated risks to this investment and its fees

La Française Allocation is a French UCITS in regards to the 2009/65/CE Directive. The Fund received AMF authorization on July 15th 2003 and was launched on July 31st 2003. The strategy changed as of July 19th 2012. Management company : La Française Asset Management – Paris – approved by the "Autorité des Marchés Financiers" under N GP97076 on July 1st, 1997.
For more information regarding the French regulatory authority - Autorité des Marchés Financiers (AMF) – please visit www.amf-france.org.