Beyond the uncertainties
This commentary is intended for professional investors only within the meaning of MiFID II.
Revaluating our strategy today, to prepare the post – crisis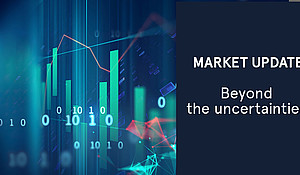 As in previous crises, the current environment is not necessarily conducive to risk taking. However, we believe in dedicating our efforts to calmly evaluate current valuations and identify the opportunities which, as we all know, when adequately seized in these troubled times, often constitute the drivers of tomorrow's performances.
Certain markets are showing signs of capitulation: hence the current valuations of Additional Tier 1 and HY seem low relative to their fundamentals.
Without underestimating the major economic impacts of this crisis, the stimulus programs announced by governments and the measures put in place by the European Central Bank are likely to reassure. The ECB's March 18 announcements are further proof of this. interventionism rather than ''laissez faire'' is now being advocated to revive the economy as quickly as possible, and the banking sector clearly constitutes an essential transmission channel to the real economy which will have to be preserved at all costs.
European banks have been evolving for more than a decade in an environment characterised by heightened prudential regulation, which has substantially favoured the strength of balance sheets to the detriment of shareholders. With very favourable capital levels, they also evidence very cautious risk management which will leave no room to the infamous "moral hazard" concern, if the institutions were to strengthen the accommodative measures.

Therefore, the financial subordinated debt market clearly constitutes a strong conviction for us on the credit market because of current valuations and extremely low levels of credit risk on the sector.

Download the Market Update
Related products