Bet on This?
This document is directed at investment professionals and qualified investors (as defined by MiFID/FCA regulations)
Three years ago the Supreme Court effectively cleared the way for states to legalize sports betting, unleashing a growth industry. Is this an industry on which investors should place their bets?
U.S. Online Sports Betting Gross Revenue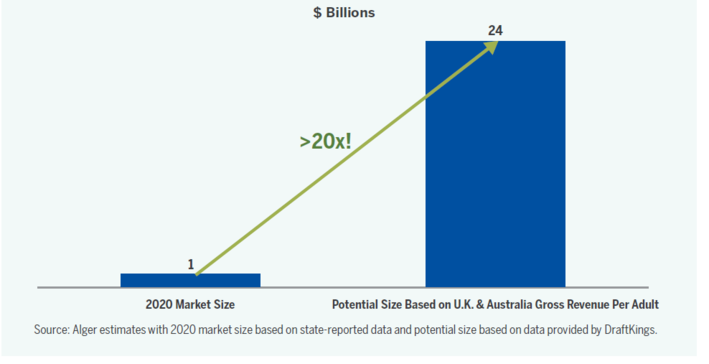 The U.S. online sports betting industry is still nascent as it becomes increasingly legal in more states. Using some data from around the world, we believe that its potential may be quite large. If the U.S. market were to mature to the U.K.'s or Australia's gross revenue per adult, the domestic market would ultimately be more than 20 times larger at $24 billion.
The sports betting industry worldwide is projected to grow 14% annually over the next several years. However, the fastest growth is forecasted to occur in the U.S., where progress on stateby-state legalization and technological innovations are expected to drive strong growth of 31% annually.1
As the industry grows, we believe there is an attractive opportunity for companies that operate sports betting businesses as well as those that provide technology platforms and data to facilitate wagering.
1 H2 Gambling Capital via Genius Sports Group.
Download Alger on The Money