Bear or Bull: "The Coming Collapse of China" or "The Chinese Century"?
Sabrina Ren, Portfolio Manager, JK Capital Management Ltd., a La Française affiliate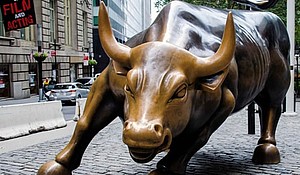 After a strong rally in Chinese stocks in 2017, one of the most frequently asked questions during a recent European roadshow was "what next"? Are we heading towards some drastic "mean reversion" or was it the start of something big? In our view, what happened in 2017 was just the start of a multi-year re-rating story of Chinese equities driven by a number of factors. The fundamental change in China's economic growth model is the key justification.
After high growth over the past forty years, the Chinese government has embraced a slower economic growth model that focuses on quality and sustainability. In other words, China's economic growth model is gradually shifting from high growth, low quality to low growth, high quality. During this process, a number of structural issues embedded in the previous unsustainable growth model such as high leverage, imbalanced property markets, overcapacity, resource depletion and environmental destruction are being taken care of, one by one. Meanwhile, the country will continue to foster innovation and boost research and development to improve its global competitiveness. During this process, investors will start to realize that the typical arguments presented by permanent "China bears" do not stand and that the China story is increasingly real and sustainable. We believe this change in fundamental perception of China by observers around the world will trigger a re-pricing of the risk premium of Chinese equities, leading to a sustained re-rating.
We believe the MSCI inclusion of Chinese onshore stocks, known as "A shares", across its emerging and world indices will also contribute to the re-rating story. MSCI's indices are closely watched and trusted. By adding A shares to its indices, MSCI has indicated to the world that the A share market is not only a market that cannot be forgotten being the second market in the world in terms of size, but it is also totally investible by foreign investors either using the Stock Connect platform or QFII quotas. The inclusion of A shares in MSCI indices means that investors who are using MSCI indices as benchmarks will have to buy Chinese stocks to avoid performance deviation. MSCI kicked start in June 2018 with a 2.5 percent partial inclusion. Upon full inclusion, China A-shares will account for about 20 percent of the MSCI Emerging Markets index. Chinese equities including Hong Kong listed shares and American Depository Receipts will ultimately account for about 40 percent of the MSCI Emerging Market Index upon full inclusion, to take place probably within five to six years. As a result, we anticipate investors to spend more and more time looking at Chinese equities, both onshore and offshore, as a promising and investable asset class.
We are optimistic on the medium to long-term outlook of Chinese equities despite the volatility we have seen recently. We, as fundamental stock pickers running concentrated strategies, believe the best way to capture the opportunities that China offers as the country moves to its next phase of growth is to analyze the key themes that drive that growth and identify the most competitive and best managed companies that will provide compounded returns over an extended period of time. We like the technology innovation theme as it is the primary driving force behind the economic development of China going forward. China aims to become a global leader in innovation by 2035 as it is already the second largest R&D spender in the world and the number one in terms of patent applications. This is well understood by Washington, which has identified the threat and is trying to stop, or at least to slow down this rise, with very few chances of success in our view. We also like the consumption upgrade theme. Companies that offer quality products and services to the rising middle class which demand more comfortable lives and a higher quality environment should excel over time. Advanced manufacturing is another theme that we favor. We believe China has entered into the same "import substitution" era that South Korea experienced in the nineties. The "Made in China 2025" strategic plan clearly aims at increasing the domestic content of core materials and components, focusing on advanced chips, memories and software that are presently the purview of foreign companies.
The Coming Collapse of China was a book written in 2001 by Gordon G. Chang that made quite an impact when it was released. It foresaw the collapse of the Chinese economy alongside its political system by 2006, and latest by 2011. Seventeen years later, China is by all accounts on a much stronger footing than it was in 2001 and is far more stable politically than a vast number of developed countries, contradicting numerous naysayers' predictions. By opposition to the views developed by a dwindling number of China bears about the "coming collapse" theory, we believe the Chinese economy has the means and resources to grow out of its structural issues, offering along the way great investment opportunities to early-bird investors who may realize that something big is happening in the world's second economy. Is the 21st century going to be the "Chinese Century" as written by Oded Shenkar in 2006 when his best-seller predicted that China would take over the US and become the largest economy by 2026? It is far more likely.
This document is intended for relevant professional and qualified investors only and is not for retail use. This document is provided for informational / educational purposes only and is not
intended to be, nor should it be, relied upon as a forecast, research or investment advice, and does not in any case constitute advice, an offer, a solicitation or recommendation to invest in specific investments or to adopt any investment strategy. Where La Française group has expressed opinions, they are based on current market conditions and are subject to change without notice. These opinions may differ from those of other investment professionals. Issued outside of Hong Kong by La Française AM Finance Services, home office 128, boulevard Raspail, 75006 Paris, France, regulated by the "Autorité de Contrôle Prudentiel" as investment services provider under the number 18673 X, affiliate of La Française. Issued within Hong Kong by JK Capital Management Ltd., a La Française group member company, is licensed and regulated by the Hong Kong Securities and Futures Commission.