Autonomous Driving Is Near
This document is directed at investment professionals and qualified investors (as defined by MiFID/FCA regulations)
n the early 2000s, Google announced that autonomous vehicles (AVs) would be available to the general public in 2017. We're four years past that target and still waiting. How distant is a future that contains AVs?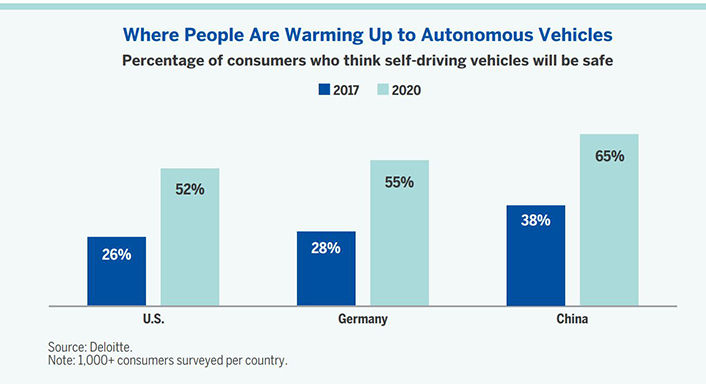 Consumers have grown more comfortable with the expected safety of AVs in some very large economies. This bodes well for the future adoption of owned and hired AVs.
AVs are operating as robotaxis (autonomous taxis) in parts of Phoenix and Las Vegas. One major auto company has said it will have AVs by the end of 2021 and a trucking start up plans to test autonomous trucks this year. Furthermore, a rideshare company says it will incorporate AVs into its fleet by 2023.
Personal vehicles are not expected to begin adopting fully autonomous systems until 2030 or later due to the costs associated with this capability. And yet AVs will have major implications. Given that more than three quarters of American workers drive alone to and from work for nearly an hour a day, we believe AVs could save the equivalent of hundreds of billions of dollars annually.
With six million auto accidents and 39 thousand related deaths in the U.S. per year, an Insurance Institute for Highway Safety study estimates that AVs could eliminate a third of crashes by reducing human error and another 40% by eliminating speeding and other violations. Interested investors might consider sensor providers, computing platforms, semiconductors and software.
Download Alger on The Money