An Illuminating Innovation
Is the U.S. seeing environmental gains from innovation today? We believe it is. Historically, electricity usage has been highly correlated with GDP growth, but this has not been true of late. Innovation has been a powerful contributor to dampening growth in electricity demand.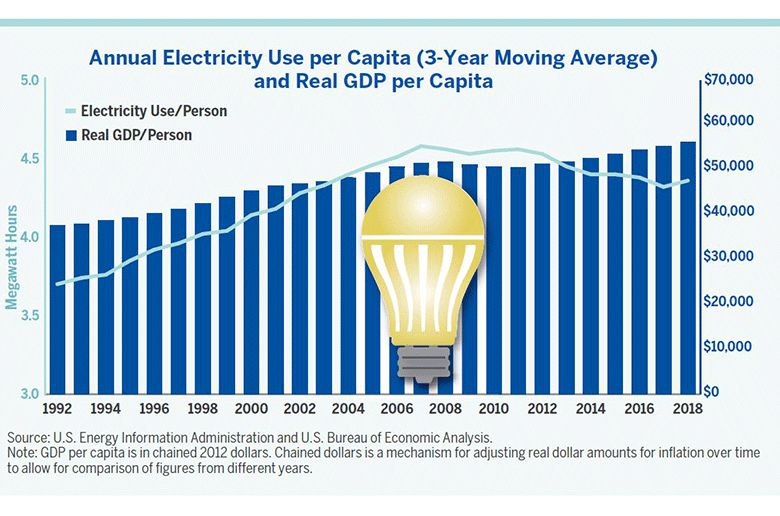 Annual electricity consumption per capita increased steadily for many years. The three-year moving average peaked in 2007 and has since declined 5%, even though the three-year moving average of GDP per capita increased 9% over the same time frame.
While the U.S. consumer has more appliances and devices needing electricity than ever before, electricity use has declined. Why? One innovation stands out: LED (light-emitting diode) lighting. LEDs use a semiconductor to convert electricity into light. Unlike incandescent bulbs, which release 90% of their energy as heat, LEDs use much less energy and are thus more efficient than other lighting types.
LED bulbs cost less in terms of bulb life and last 25 times as long as traditional bulbs. As a result, they can reduce both energy consumption and replacement expenses. According to the U.S. Department of Energy, LED lighting may result in energy savings of 40% by 2030 based on use in residential, outdoor, commercial and industrial settings. LED bulbs also prevent more garbage from entering landfills.
What other innovations may benefit the environment? One candidate is electric vehicles that may serve to reduce CO2 emissions, which are currently in need of some innovative help (see Alger On the Money "Emission Mission").
Download Alger On The Money