American Express enters the Chinese RMB payment market
By Guillaume Dhamelincourt, Business Development–Product Specialist, JK Capital Management Ltd., a La Française group-member company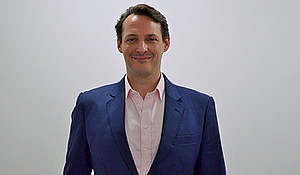 Last week American Express received the approval from the Chinese authorities to start bank card clearing services in China. The US company became the first foreign payments network to be allowed to process RMB transactions in China. The license was granted by People's Bank of China, China's central bank, to American Express's China joint venture, Express (Hangzhou) Technology Services. Under the terms of the approval, the company must start operations within 6 months.

In 2018 China's bank card clearings was a USD 27tr market with USD 8.4tr of online transactions. Express (Hangzhou) Technology Services intends to operate both online and offline payment transactions, but it will probably be far from easy. Competition will be tough for the new entrant. On the physical card side China UnionPay already dominates the market. In the online space, American Express's JV partner LianLian Group is a relatively small player in China's third-party mobile payments industry where WeChat Pay and Alipay have more than a 90% combined market share. Fees will also be a challenge as they are much lower in China than they are anywhere else. The card-clearing fee rate is 0.065% for domestic banks and the acquiring fee rate ranges from 0.5% to 1%. American Express typically charges between 1.4% and 3.5% in the US so it will have to sacrifice its margins if it wants to gain a meaningful market share in China. (Source: Bloomberg.com)

The approval is part of phase one of the US trade deal signed earlier this year by the US and China in which China made a commitment to open up its USD 45tr financial markets to foreign firms. Other US card companies may soon follow American Express. Mastercard received its initial approval in February while Visa's progress has been slower. The opening envisaged under the phase one deal does not limit itself to payments as it also includes insurance, asset management and investment banking services.

Some cynics will say that opening now the payment market to foreign companies is not a big sacrifice for China since this market is already well developed and dominated by local players. Nevertheless, the same is often true when Chinese companies want to set foot in the US.

China's openness to business is more than just a posture. The country is moving towards opening up its financial markets and is fast changing rules accordingly. For instance, since 1st January 2020 any foreign insurance company can set up business in China through wholly owned subsidiaries, no longer needing a local partner.

When it comes to new bond issuances and IPOs in Hong Kong, we can already see that international banks, and more specifically American banks, have the favour of state-owned issuers.

This trend goes beyond financial markets as China has been welcoming US investors in many sectors - Tesla having built a large factory to cater to the local market is a good example - and Foreign Direct Investment from the US into China remains strong. At the same time, measures taken by the US administration against Chinese investments on US soil have led to a collapse of such investments.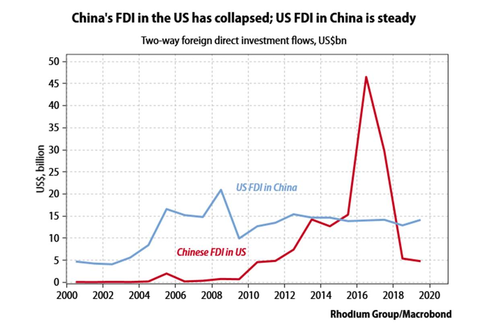 Informative Document for non-professional investors as defined by MIFID II. The information contained herein is issued by JK Capital Management Limited. It is provided for informational and educational purposes only and is not intended to serve as a forecast, research product or investment advice and should not be construed as such. The information and material provided herein do not in any case represent advice, an offer, a solicitation or a recommendation to invest in specific investments. To the best of its knowledge and belief, JK Capital Management Limited considers the information contained herein is accurate as at the date of publication. However, no warranty is given on the accuracy, adequacy or completeness of the information. Neither JK Capital Management Limited, nor its affiliates, directors and employees assumes any liabilities (including any third party liability) in respect of any errors or omissions on this report.