Alger Small Cap Focus Strategy Manager Amy Y. Zhang, CFA, Awarded "AA" Citywire Rating
La Française and Fred Alger Management, Inc. ("Alger) are pleased to announce that Amy Y. Zhang, CFA, has been awarded the "AA" Citywire Fund Manager Rating for strong risk-adjusted performance (equity – U.S. small and medium companies category as of September 2018).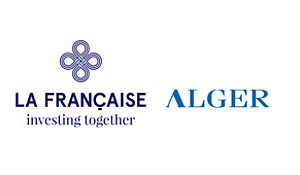 The Citywire Fund Manager Ratings measure a portfolio manager's performance over the past three years.

"It's an honor to be recognized by Citywire. Our approach to small cap investing is unique. We build high conviction, benchmark agnostic portfolios of what we believe are exceptional small companies that have the potential to grow into successful large companies," said Ms. Zhang. "We seek to invest in companies that have the potential to double their revenue stream in five years with profitability to fuel future EPS growth."

Ms. Zhang is portfolio manager of the Alger SICAV—Alger Small Cap Focus Fund (the "Fund"). The Fund has a strong track record as demonstrated by its since inception cumulative return of 137.60% (net of fees and expenses), which outperformed the Russell 2000 Growth Index by more than 5,682 bps, Class I US as of 8/31/18. The Fund returned 26.40% in 2016 (1/29/16 – 12/31/16) and 29.19% in 2017*. Assets in the Fund have grown to more than $300 million and overall Ms. Zhang manages $2.4 billion in Small Cap Focus strategy assets. The recommended investment period for the Fund is more than five years.

The Fund is a focused portfolio of generally fewer than 50 high-conviction small cap securities. Ms. Zhang and her team of analysts look for companies on the cutting edge of innovation that possess the potential to transform industries and disrupt the status quo.

"High-conviction, focused portfolios are a core competency of Alger. The in-depth, fundamental research by our investment team, which we have refined for more than 50 years, enables our portfolio managers to construct 'best ideas' focused portfolios with confidence," said Dan Chung, CEO and CIO of Alger.
La Française and Alger have been collaborating on fund distribution, market development, and product diversification since February 2015.
Download the press release