Alger on the money - Leading Indicator Inspires Confidence
The Conference Board Leading Economic Index (LEI) is designed to capture peaks and troughs in the U.S. business cycle and help forecast turning points. Its favorable performance this year implies positive news for investors.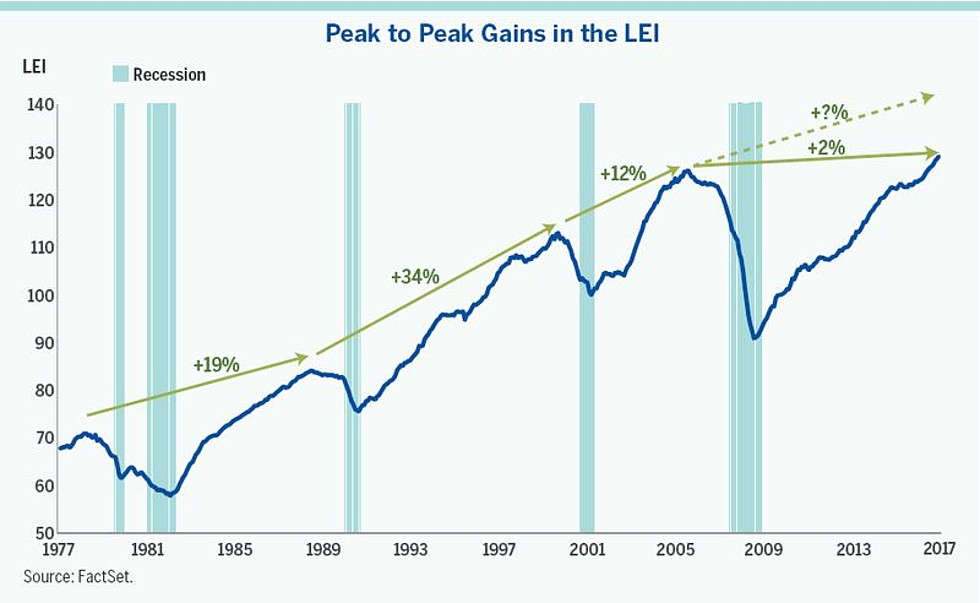 Historically when the LEI1 has surpassed its previous peak, it has gained more than 20% on average.2 Currently the LEI is only 2% above its prior peak, which suggests double digit future gains if the LEI conforms to its own historical precedent.
Additionally, the LEI usually peaks one to two years before a recession. Having hit a record high in 3Q17, it appears the economy is at least one to two years away from a recession.
Another property of the LEI is it tends to move 6-18 months ahead of similar changes in corporate earnings, which bodes well for future earnings per share (EPS) growth as the LEIcontinues to grow solidly.
Based on this reading of the LEI, further economic expansion and earnings increases are potentially likely to await investors.
1 The LEI is a composite of 10 indexes measuring economic indicators such as manufacturing hours and building permits.
2 Evercore Group LLC (2017) "Special Economic Report." Evercore ISI.
> Download Alger on the Money, A view on the U.S. Market