Activity remains robust in Eurozone
This week was busy on several topics :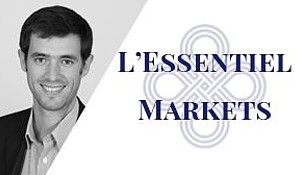 On the macro side, economic data continues to show robust growth in Eurozone (PMI 55.7, retail sales +2.6%) and in the US (ISM services 56).
ECB took into account this healthy dynamic and revised upwards its GDP projections, but revised downwards future inflation path due to the Euro strength. That being said, Mario Draghi did not give more clarity on future ECB actions. We will have to wait until October 26 for announcements about tapering
Bank of Canada surprisingly hiked for the second time in a row. The markets had only a 50% chance priced in due to weak inflation. BOC did not care and concentrated on business activity which is doing very well
Last, heavy news flow in the US with Debt Ceiling resolution, Stanley Fischer resigning (Fed number 2) and Hurricane Irma coming in the next hours…

Markets reacted with a sharp decline in bond yields : US T Note -14 bps and German Bund -8 bps. The ECB rate hike expectations have been pushed further down the road with a mere 34% probability for a hike before december 2018.
We think this repricing has gone too far and have used the very low level in German bund yields to add to our short.
More about:
La Française Allocation Share Class R
La Française Allocation Share Class I
La Française Allocation Share Class S
The information and material provided do not, by any means, represent advice, offers, solicitations or recommendations for investing in specific investments. All statements reflect the opinions of their authors at their publication date and do not constitute a contractual commitment on behalf of the management company. These assessments are subject to change without notice, within the prospectus' limitations, which is the only legally binding document. La Française Group declines liability in any form for any direct or indirect damage resulting from the use of this publication or the information that it contains. This publication may not be reproduced in full or in part, disseminated or distributed to any third party without the prior written consent of La Française Group.

La Française Allocation is a French UCITS in regards to the 2009/65/CE Directive. The Fund received AMF authorization on July 15th 2003 and was launched on July 31st 2003. The strategy changed as of July 19th 2012. Management company : La Française Asset Management – Paris – approved by the "Autorité des Marchés Financiers" under N GP97076 on July 1st, 1997.
For more information regarding the French regulatory authority - Autorité des Marchés Financiers (AMF) – please visit www.amf-france.org.www.amf-france.org.