Acceleration of growth in Eurozone
The risk sentiment remains volatile this week. After a rebound at the beginning of the week, as geopolitical tensions between US and North Korea ease, markets complete the week on a negative note.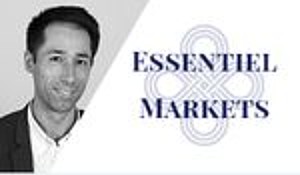 The equity markets drop following the rise of US political turmoil and the terror attack in Barcelona.
US equities sold off sharply amid worries that White House advisor Gary Cohn and others would leave the administration, leaving his pro-growth agenda in doubt.
Moreover, we are through the end of the earnings season. Second-quarter earnings have been satisfying, especially in US, most companies topping profit and sales estimates. It has been a good support to the market, and that is now behind us.
The minutes of Central Banks meetings published this week raised some concern :
• FED minutes showed that discussions have been heavily focused on inflation, with some increased concern about inflation outlook. FOMC members appeared to be more divided over the recent weakness in inflation
• ECB minutes showed that policymakers expressed some concern about a possible risk of euro overshoot that could impact financial conditions.
On the macro side, data released this week were balanced :
• In US, retail sales were robust and rose stronger than expected at +0.6% mom in July, that should support Q3 GDP growth
• In Europe, economic growth for the second quarter accelerated. The updated flash estimate confirmed GDP growth at +0.6% q/q in the second quarter, up from the +0.5% q/q growth in the first quarter
• In China, all activity data in July slowed more than expected, and were weaker than the average Q2 print. Both industrial production and retail sales have stated to show some signs of slowdown
More about:
La Française Allocation Share Class R
La Française Allocation Share Class I
La Française Allocation Share Class S
The information and material provided do not, by any means, represent advice, offers, solicitations or recommendations for investing in specific investments. All statements reflect the opinions of their authors at their publication date and do not constitute a contractual commitment on behalf of the management company. These assessments are subject to change without notice, within the prospectus' limitations, which is the only legally binding document. La Française Group declines liability in any form for any direct or indirect damage resulting from the use of this publication or the information that it contains. This publication may not be reproduced in full or in part, disseminated or distributed to any third party without the prior written consent of La Française Group.

La Française Allocation is a French UCITS in regards to the 2009/65/CE Directive. The Fund received AMF authorization on July 15th 2003 and was launched on July 31st 2003. The strategy changed as of July 19th 2012. Management company : La Française Asset Management – Paris – approved by the "Autorité des Marchés Financiers" under N GP97076 on July 1st, 1997.
For more information regarding the French regulatory authority - Autorité des Marchés Financiers (AMF) – please visit www.amf-france.org.www.amf-france.org.