Aberdeen Standard Investments and La Francaise Real Estate Partners International sell two prime retail assets in Germany
On behalf of the Pan European Urban Retail Fund1, "PURetail", a Luxembourg FCP-SIF, La Française Real Estate Partners International (LF REP International) and Aberdeen Asset Management have successfully sold a prime mixed use (retail and office) asset in Stuttgart2 to LaSalle Investment Management and a core retail asset in Lübeck2 to R+V Versicherung.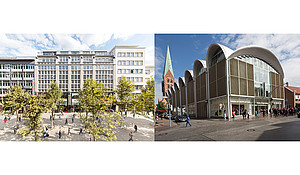 During the holding period of the assets, LF REP International, together with Aberdeen, successfully achieved the original business plan objectives that included the stabilization and long-term extension of lease agreements.
The PURetail fund, available only to institutional investors, has been closed to subscriptions since July 2014. Since then, the portfolio has been optimized through active asset management and the strategic sale of assets.
Fabian Klingler, Head of Direct Real Estate Continental Europe stated: "We were able to close challenging transactions, efficiently and in a timely manner. We are delighted to have sold these properties well, taking advantage of the current market context and generating a good risk adjusted return for investors in the fund."
Jens Goettler, Managing Director for Germany, La Française Real Estate Partners International, said: "Once again, these sales demonstrate our ability, alongside our partner Aberdeen, to create value for our investors, thus achieving our initial business plan objective. Favorable market conditions were not the only value drivers. Despite the increasing market share of e-commerce, we were able to increase substantially the rental income of the portfolio."
Colliers International advised PURetail on the sale of the asset in Stuttgart; JLL advised on the sale of the asset in Lübeck.
Clifford Chance advised on the legal side and TA Europe was the technical advisor on both transactions.
1The PURETAIL fund, a Luxembourg FCP-SIF available to institutional investors only, was closed to subscriptions in July 2014. La Française Real Estate Partners International is the asset manager of the fund alongside of Aberdeen, the fund manager.
2This is an example of an investment held within the portfolio. It is not indicative of future sales and does not fully reflect the composition of the fund.