The Grand Paris project, the biggest European urban development project in recent decades, will transform Paris into a genuine 21st century global metropolis. Paris has not experienced development of this scale since Baron Haussmann's urban renewal programme in the 1860s.
The visionary Grand Paris project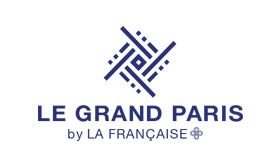 Going above and beyond cultural and architectural dimensions, the aim of this landmark project is to facilitate and fluidify the daily transport of two million people and create regional activity hubs, such as an innovation and research hub in Saclay, a healthcare hub in Villejuif, a centre for aeronautics in Le Bourget, a TV and cinema hub in Saint-Denis Pleyel… these projects, in turn, will create induced value. The construction project is expected to generate real estate investments of €75 billion in housing and offices. These developments will, moreover, serve as a clear vector for wealth creation given that GDP per capita is 15% higher in France's largest metropolitan areas than the rest of the country.
Grand Paris Express metro, the backbone of the Grand Paris project
The ambition of Grand Paris Express is to double the size of the existing rail network by adding a new automated metro system which will give renewed momentum to the city and its environs. The Parisian metro network will expand by 200 km over the next ten years, with the addition of 68 new stations.
Latest news on the Grand Paris project
La Française and the Grand Paris project
Through its many development opportunities, this project will change the scale of Paris and impact every sector of the real estate market in the region. La Française portfolio management has a wider reach than fixed income and equities. Over the last 40 years, La Française has been honing its real estate expertise and today it manages approximately €16 billion in property assets, which include more than 550 buildings around Paris. It is entirely natural, therefore, that La Française is participating in this mammoth project that is unequalled in Europe. As an experienced player in French real estate, we are strategically well placed to implement investment strategies linked to the Grand Paris project.
"Inventons la métropole du Grand Paris" request for proposals
A request for architectural projects was launched by the metropolitan agency for Greater Paris, "Métropole du Grand Paris", for 57 sites around the region in 2016. It was the biggest property development, urban planning and architectural consultation process in Europe, receiving 420 applications within a few months from consortiums of architects, developers and investors. La Française participated in the "Inventons la Métropole du Grand Paris" request for proposals, submitting proposals for several development opportunities around key Grand Paris Express station locations. In October 2017, La Française was awarded two symbolic sites of the Grand Paris project as part of different consortiums: Le Franchissement Pleyel and Les Ardoines.
Investing in the Grand Paris project
La Française is launching a real estate operating company dedicated exclusively to the Grand Paris project through which it is offering access to some of the most symbolic development sites in Greater Paris. The portfolios will include housing, offices and retail spaces along with an innovative financing mechanism for the residential market. These will favour the creation of "green" districts in line with the highest environmental and societal standards, in line with La Française's investment philosophy.
La Française will purchase greenfield and brownfield development sites so as to invest in the key zones of Greater Paris offering the strongest potential for value creation.
Through this new positioning, La Française is enhancing its core business activity as a specialist in investment and third party asset management. La Française is thus affirming its role as a major actor in the development of the Grand Paris project via its SCPIs (société civile de placement immobilier, French collective investment vehicle) and by engaging upstream in very long-term construction projects.
Property for life
This concept would mean purchasing the right to use a residence from a real estate operating company for a long period of time that would be defined in advance. This usage right would be acquired in a similar manner to standard ownership, including the possibility of taking out a loan. The lessee has the same usage rights as a conventional owner with the sole difference that the lessee may not pass on these rights to heirs. Furthermore, a clause may be included in the contract allowing the buyer to maintain their rights beyond the initial duration, notably until their death. At that point, ownership of the property would revert to the real estate operating company.
Click here for more detail on authorisation and regulatory information for La Française Group.
This information is provided for information purposes only and does not constitute any offer to buy or solicitation to sell whatsoever. All investment entails risk. Past performance is no guarantee of future performance. Please contact your advisor to make sure the financial product fits your needs.