The 5-year US bond yield is at 2.44%, its highest level for 7 years
Financial markets were closed Monday 15th in the US due to Martin Luther King day.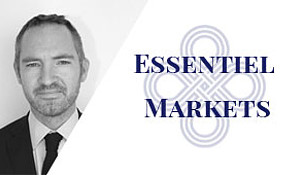 The week will not be remembered as particularly eventful. The trends remain the same:
US bond yields are a touch higher (+6bps). Nothing on Euro bond yields though;
Market is trading 2.44% for 5-year US bond yield, the highest level for 7 years. Markets price more than three rate hikes in the US for 2018; and 2 hikes are priced with a 60% probability on June 2018. There is little room for negative surprises. What could be surprising?
- Q1 GDP could be weaker than expected, which happens regularly in the US (often due to climate). This is why bond yields tend to rise in Q4 / Q1 and decrease later on;
- Oil could experience a pull back. Brent rose above $70 for the first time since 2015 due to reasons that are sometimes temporary. This could reverse, especially with investors positioned very long on oil.
Equity markets are up, circa +1% last week.
On the macro side, not many data releases to comment:
Most of the figures are from China: Q4 GDP above expectations at 6.8%, retail sales slightly below but still around 10% year over year and industrial production slightly above expectations. In short not much, the economy is doing fine;
US industrial production is way above expectations but previous month was revised downward. All in all, it is slightly positive;
Bad real estate figures in the US, with a disappointment in the construction activity
Last, rate hike in Canada, as anticipated by investors.
Final point, earnings season kicked off in the US, and so far everything is good!
More about:
La Française Allocation Share Class R
La Française Allocation Share Class I
La Française Allocation Share Class S
The information and material provided do not, by any means, represent advice, offers, solicitations or recommendations for investing in specific investments. All statements reflect the opinions of their authors at their publication date and do not constitute a contractual commitment on behalf of the management company. These assessments are subject to change without notice, within the prospectus' limitations, which is the only legally binding document. La Française Group declines liability in any form for any direct or indirect damage resulting from the use of this publication or the information that it contains. This publication may not be reproduced in full or in part, disseminated or distributed to any third party without the prior written consent of La Française Group.

La Française Allocation is a French UCITS in regards to the 2009/65/CE Directive. The Fund received AMF authorization on July 15th 2003 and was launched on July 31st 2003. The strategy changed as of July 19th 2012. Management company : La Française Asset Management – Paris – approved by the "Autorité des Marchés Financiers" under N GP97076 on July 1st, 1997.
For more information regarding the French regulatory authority - Autorité des Marchés Financiers (AMF) – please visit www.amf-france.org.www.amf-france.org.