La Française collective real estate investment vehicles acquire first The Hague-based asset
Three La Française collective real estate investment vehicles, represented by La Française Real Estate Managers, have acquired an office building in the central business district of The Hague from an Institutional Investor.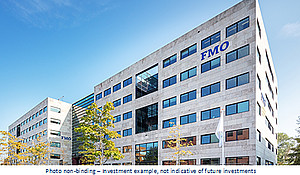 The property is located at 69/71 Anna van Saksenlaan, in close proximity to the "Laan van NOI" train station and the A12 motorway.

The six-storey office building, which was completed in 2003 and recently refurbished by the tenant, offers 9 324 m2 of floor space and 55 indoor (basement) and 52 outdoor parking spaces. The building and its equipment fully integrate sustainability requirements: A-energy label building, ample bicycle storage, electric charging points and a beehive on the roof top.
The high-quality office property is fully let to FMO, the Dutch entrepreneurial development bank, for their headquarters.

Jens Goettler, Managing Director of La Française Real Estate Managers - Germany said, "We are delighted to secure a fourth property in Randstad, the central economic engine of the Netherlands. This acquisition is perfectly in line with our investment strategy which associates financial and ESG (Environmental, social and governance) criteria. Located in a city renown for the abundance of its green spaces and rated among the top cities in the Netherlands to offer such a balanced work and life environment, we are confident in the long-term attractivity of the property. Furthermore, Beatrixkwartier is transforming into a mixed-use development with offices, childcare facilities, a health club, a conference center etc. and drawing in a variety of international organizations and large corporates."

La Française Real Estate Managers was advised by DLA Piper Netherlands on legal aspects and by Savills Netherlands on technical Due Diligence and as buy-side advisor.