The business was founded in 2002 and has been successfully operating as a pan-European real estate investment management boutique for over 17 years. Following the acquisition of Forum Partners' interest in the business, it has been re-branded La Française Real Estate Partners International and then La Française Real Estate Managers. It is now La Française's integrated real estate services platform in Europe. With offices in London and Frankfurt and linking to the group operating platform in Paris, La Française Real Estate Managers provides investors with access to the European real estate markets. The company also opened a representative office in Seoul, to service its Korean client base.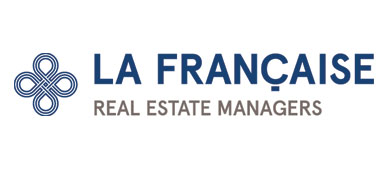 La Française Real Estate Managers provides a complete investment management service in both direct and indirect real estate investments for a wide range of international clients across continental Europe, the UK and Asia. The company, is a recognized specialist in core and core-plus real estate investment strategies throughout Europe.
La Française Real Estate Managers (Europe) is headed by David Rendall, CEO David Rendall was a Founding Partner of the business in 2002. The company has been successfully active on the German market since 2006. In May 2021, Mark Wolter joined the company as Managing Director & Country Head Germany in order to further drive the expansion of the real estate division and expand the product expertise on the German market. Together with Peter Balfour, Investment Director (UK), the senior management team has worked together for over 15 years. A core team of 15 professionals with skill sets in deal sourcing, acquisitions, fund and asset management link-in to the strong wider real estate team of La Française in Paris to provide clients with a seamless service across the European markets.
David Rendall

CEO of La Française Real Estate Managers

David Rendall

CEO of La Française Real Estate Managers

Mark Wolter

Managing Director / Country Head Germany

Mark Wolter

Managing Director / Country Head Germany
Sandra Metzger

Director Asset- & Investment Management Germany / Deputy Managing Director

Sandra Metzger

Director Asset- & Investment Management Germany / Deputy Managing Director

Robin Steinberg

Head of Transactions Funds Germany

Robin Steinberg

Head of Transactions Funds Germany

Ji-Woon Min

Investment Manager

Ji-Woon Min

Investment Manager

Lena-Maria Dörffler

Investment Manager

Lena-Maria Dörffler

Investment Manager

Adil Mestan

Investment Manager

Adil Mestan

Investment Manager

Carolin Hoser

Head of Asset Management Germany

Carolin Hoser

Head of Asset Management Germany

Peter Koblitz

Asset Manager

Peter Koblitz

Asset Manager

Jasmin Faour

Asset Manager

Jasmin Faour

Asset Manager

Benedict Weitz

Asset Manager

Benedict Weitz

Asset Manager

Vanessa Mayer

Asset Manager

Vanessa Mayer

Asset Manager

Naheed Ashraf

Office & Marketing / Communication Manager

Naheed Ashraf

Office & Marketing / Communication Manager

Aniseh Krieger

Office Managerin / PA

Aniseh Krieger

Office Managerin / PA